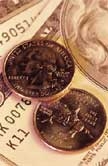 Payment Bond Alternative
U.S. Escrow pioneered one of the first federal programs for contractors required to post a payment bond. This program initially was implemented with the EPA and has proven to be both administratively and economically productive for all parties.
Such programs have earned U.S. Escrow a reputation for efficient and secure handling of transactions involving large sums of money, and they can be tailored to your needs.
U.S. Escrow reviews and signs off on all invoices. This approval allows the government office to proceed with payment to the contractor.
Fees are predicated on a per account receivable invoice basis. All invoices are submitted to our office for review and verification—a process that is accomplished within a few hours of receipt of the invoices. We then submit our certification to the federal agency for payment.
Call us for details; factoring can be a cost-effective alternative to bonding for many industries.